On behalf of its member councils, Fleurieu Regional Waste Authority (FRWA) are charged with reducing the impact of the community on the environment, particularly diverting waste from landfill. The change to the schedule has occurred following a two year investigation into the best way to provide more opportunity for households to recycle more and reduce the amount of waste sent to landfill.
Answers to many frequently asked questions (FAQs) in relation to the Summer Recycling Collection Schedule are provided below.
Q. Why are the Fleurieu Peninsula and Kangaroo Island Councils changing the summer collection schedule?
Fleurieu Peninsula and Kangaroo Island Councils have long identified the need for extra waste collections during the summer peak and since the introduction of fortnightly collections, have provided weekly collection of general waste during the summer peak. Over summer, general waste production increases by 25% across the Fleurieu Peninsula and Kangaroo Island with the community purchasing more and disposing of more material. This includes cardboard, containers, packaging, paper, glass, and food all of which can be recycled but more often ends up in the general waste bin because it is collected every week.
Our community is passionate about recycling and the environment and to facilitate better environmental outcomes, increase the amount of material recycled and reduce the amount of material sent to landfill the kerbside bin collection schedule is being reversed to weekly collection of Recycling and FOGO and fortnightly collection of General Waste.
Q. When will my Exceptional Circumstances Bin be collected?
Exceptional Circumstances Bins will continue to be collected fortnightly during the summer period as the are throughout the year.
Q. Who was consulted about these changes?
FRWA conducted a community trial over the summer of 2020/21 which provided weekly recycling and green bin collections with fortnightly waste to landfill collection in the Hayborough and Chiton area. The trial showed the community creates more recycling and green/food waste over the summer period.
FRWA then consulted the community via a survey of over 1,300 residents, collected waste tracking data and conducted external waste audits over the 2021/22 summer to ensure a change would be favourable for the majority of the community. FRWA then consulted with member Councils and Elected Members between April and June 2022, with all member councils adopting the recommended schedule of weekly collection of recycling and FOGO bins (in eligible townships) and fortnightly collection of general waste bins.
Q. This is a reduction in waste collection my household won't be able to manage.
The change in collection schedule actually increases the amount of volume collected from each household. Previously, 3 additional 140 litre general waste bins (440 litres) were collected over the summer period. The new collection schedule will see 6 additional 240 litre bins (1,440 litres) collected from each household. This is an increase of 340%. In areas that do not receive a FOGO service the increase is 163% in capacity.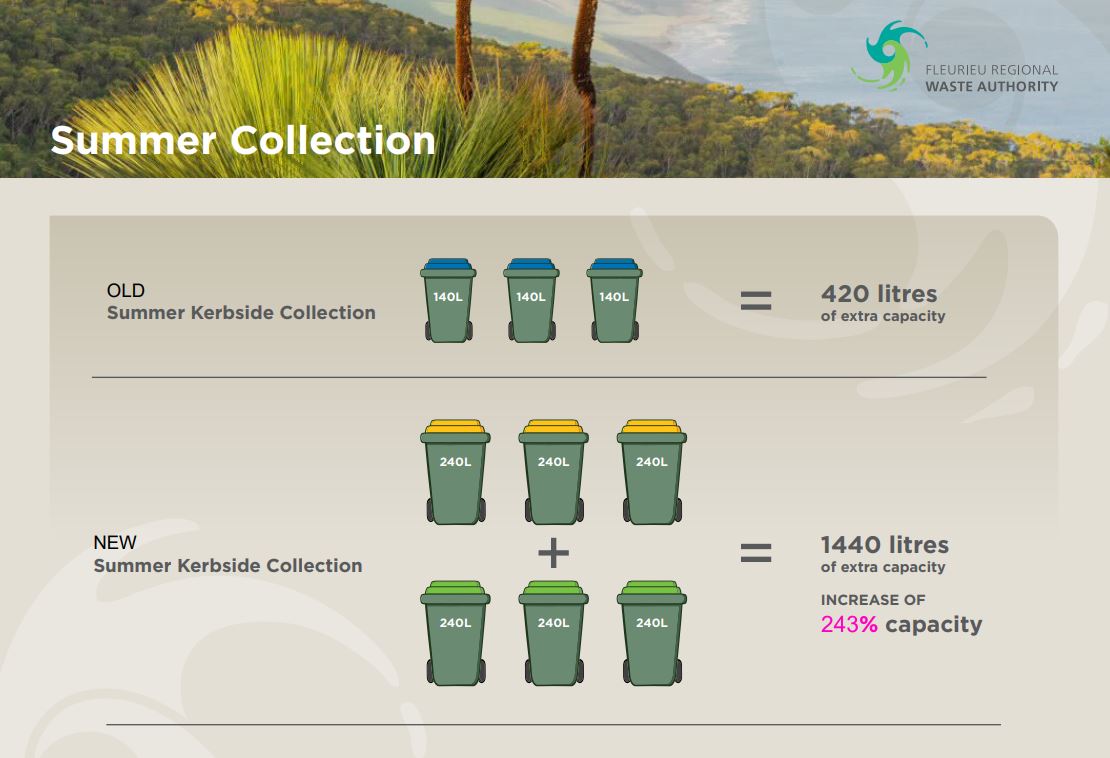 Q. What can I do if my rubbish bin is full before it is due for collection?
FRWA offer a range of additional services to help residents and business owners manage extra waste needs they may have.
– Dependant on location and logistics of collection runs, a pre-booked service may be available when your general waste bin needs an extra collection outside the regular fortnightly collection, at a cost of $30 per bin. Enquiries and bookings can be made by calling FRWA 8555 7405.
– If you already own an extra bin and would like at times to have this bin emptied along with your normal fortnightly collection, the cost is $10. Bookings can be made by calling FRWA 8555 7405. 
– Additional fortnightly collections may also be purchased in 3 monthly increments which start at $44.  This tends to suit holiday home owners/managers, who need extra waste capacity for their guests over holiday periods. Find out more about additional services here. 
Q. I do not agree with the changes, who do I direct my feedback to?
Our investigations over the past two years show that a change in summer collection schedule will suit most residents, however we understand that it will not suit all residents, particularly those with holiday homes, thus provided an option for paid additional waste collections.
If you would like to ask further questions or provide feedback, please email admin@frwa.com.au.
Q. Why is the Green bin also called a FOGO bin?
FOGO stands for Food organics (and) garden organics. Our kerbside green lid bin can take any material that grows in our garden and any food and compostable waste including paper towels and tissues, soiled pizza boxes, shredded paper, animal waste, ash and hair.


What foods can I put in the FOGO bin?
– All fruits and vegetables
– Meat
– Bones
– Dairy
– Seafood
– Eggshells
– Coffee grounds and teabags


Only use compostable bags with this seed logo can be used in the FOGO bin. Never use biodegradable or other terms such as eco-friendly as these often just degrade into micro-plastics.


Q. Can I put wrapping paper in the recycling bin?
Yes, all clean paper products can go in the recycling bin including glossy paper and magazines.


Q. Can I put tinsel and baubles in the recycling bin?
Tinsel and baubles unfortunately cannot be recycled and go into your general waste bin.


If you would like to ask further questions or provide feedback, please email admin@frwa.com.au.